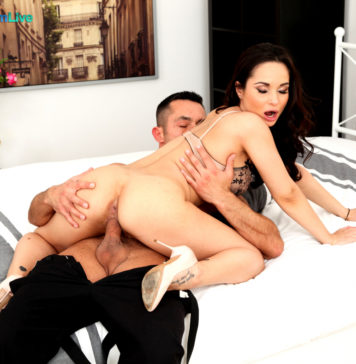 BG ( Boy / Girl )
Ever since Aurelly Rebel debuts last year 2013, every man seeing her on her first scene doesn't forget about her. Not only she got the face that is mature looking but at the same time pretty gorgeous, she got the body and the tits and ass to look out for. Standing 5 foot 5 inches tall, this girl is such a pleasure to see on her videos especially. Her big tits are definitely something to look but her butt is on another league. With her petite frame you'll wonder why we get to keep watching her everytime. With this reserved looks she can go extreme on the other hardcore niches, yes you are right!
This Russian brunette looks beautiful and one thing that people want to see more of her is her huge butt. She did a lot of adult movies together with the Juicy Entertainment, Private, Sunset Media and her very first video she is involved in an anal sex niche. Aurelly Rebel loves giving nice quality and her fans and followers are always eager to see her pretty face, her huge ass and how she got fucked in the backdoor.
If you want to see more of Aurelly Rebel you can always find her on anal flicks section. She always loves getting her anal cravings. She knows how to share her blessings especially to her loyal fans and followers. From ass to mouth, ass toying lesbian sex, threesome, group sex and BDSM. You can definitely say that it is worth it to know more about her and watch her amazing hardcore vids.  Enjoy seeing her gaping hole getting stretch with different types of huge cocks.
Her introduction in the world of porn is amazing because you can see her videos on popular studios and titles. She even collaborated with a lot of pornstars including Rocco and other lucky guys. Aurelly loves being tagged as one of the best when it comes to anal sex. She always ends her amazing sex videos on demand with a messy facial. She admits she loves cum and loves to play with it on her mouth or even covered her pretty face on it. That is how nasty she can be when she is in the mood. There are a lot of her videos with ass to mouth sessions and gaping holes as she took on wide thick cocks both on her tight holes.
One thing we always love with Aurelly Rebel is she looks so elegant when it comes to teasing and introducing herself. Your first impression will definitely fool you as her hardcore videos goes by with her looks. She can be passionate at times especially when making out to her lucky partners. When she gets naked as she reveals her big fake tits and her plump butt you know that we are in for a treat. She can get wilder and wilder when she is super horny. That is why she always ends up getting buttfuck and drench her pretty face or her nasty mouth with jizz.
People will always remember her when she sets her mark on this industry for years to come. Aurelly equals anal sex and that she is mostly likely to be the anal queen in the future. Watch out for more of Aurelly Rebel! She isn't finish yet producing hardcore and anal sex videos. If you want to see a hot babe getting passionate and at the same time a big fan of rough sex, Aurelly Rebel is definitely one of your best choices. Bookmark her now and enjoy this horny Russian chick gets into action.