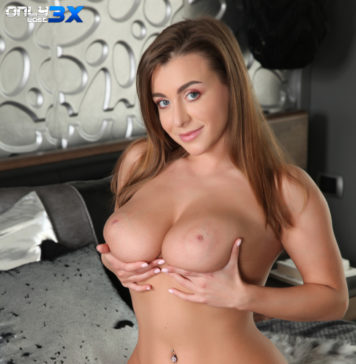 BG ( Boy / Girl )
Curvy lovers unite as we celebrate the coming of this European pornstar Josephine Jackson. This babe is hot as fuck and got the voluptuous body that everyone will crave for years. She debuted last 2018 and impresses us with the wide range of her hardcore videos whether it is passionate and sensual or wild and hardcore. Born the last 1st of February, 1995, this chick is starting anyway in porn and we are glad she is just getting started.
This 24-year old babe from Ukraine got the best natural tits to be proud of. She knows that as she always showcases that before going wild with big cocks. She loves squeezing them seductively while staring at your cock. Every video it is worth to try getting her titjob specialty. Every guy loves feeling those two big titties going up and down with your member. She also got the fresh, pink nipples, a bonus. This is all-natural and that is a cherry on top.
Also known as Julie Senyuk or Jozephine Jackson, this babe being natural also got the blue eyes that are innocent-looking yet tempting. She always stares at her partner or in front of the camera with such a tempting look. Feels magnetic to us and it can make you hard. Especially when she is all naked as her curvy body is heaven-sent. Everybody loves to see her naked and curious about how smooth and how natural feels like when you caress, fondle or taste her.
Talking about her portfolio, Josephine Jackson never fails to deliver. Whether is sensual or wild and extreme, this brunette really can please her co-stars as well as her new followers. That is why she got a lot of followers on Twitter as her luscious body and her pretty face are captivating. Josephine can also get kinky at times. She always surprises us just like her video in here as we didn't know she can give a rim job.
Did you know that Josephine Jackson graduated Masters for economics? She could have been working in the office but chosen to work in this industry. I think that is the best move for her as she loves people watching her while she is having fun with big cocks. Porn is her passion that is why she is good at it. She is gaining a lot of fans and we will never be surprised to see her taking it into the 100k followers club on Twitter. Josephine Jackson deserves that.
Besides Twitter she also got Facebook. Her Twitter page is a gold mine as you can see what she is up to and her new gigs in the adult industry. This curvy babe also loves to party based on her posts. We couldn't wait what she is going to do next on her young, illustrious career. Hopefully, we can see her doing BDSM, Fetish or soon anal. All of her tight holes down there deserves a cock treat for her wonderful performances.