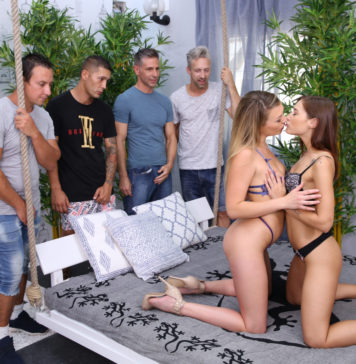 Threesome
"Mina K was born on November 08, 1994, in Latvia. She is 5 feet, 7 inches (170 cm) tall, weighs 116 lbs (53 kg), and has a 34A-24-37 body. She is known by several different names Medina, Medina V, Mina, Mina B, Mina K Medina, Mina Medina
She started her porn career in 2016 when she was just 22 years of age and has made many "Teen Videos" where she has played characters younger than she really is. It's fortunate for her a career that she is blessed with looks that appear younger than her real age. Of course, that eventually comes to a natural end.
Porn Career
Around 50% of the videos made by Mina were distributed by legalporno.com which indicates how youthful she looks. However, within this age preference, she is very flexible with the type of work that she does. Even her very first video featured Anal, Facial, Double Penetration, and ass to mouth scenes.
She has gone on to specialize in anal work with most of her videos featuring her ass being used by one or more people. She even shot one scene where she successfully had three cocks inserted at once,
Mina has had a prolific career with many videos being produced each year, especially the 2018-2020 period. Despite all of this she has managed to keep the general appearance of the girl next door. An interesting phrase that, I would love to have a girl next door who looks like Mina.
Some pornstars come over as hard, and slutty, and there is never any element of surprise when they do the most extreme acts. With Mina, she looks so natural, like every other beautiful woman that when you see her being used and abused it is sexier. This is what Mina achieves with her videos. No matter what she does, and she does pretty well anything you can imagine in her videos, she comes over as a nice girl having fun.
Notable Scenes and Videos
Mina is a Piss Drinking Slut SZ2106
This was another film distributed by legalporno.com and featured three guys and Mina in a very white set. The three guys alternate between pissing in Mina's mouth and making use of her ass and pussy, often using her ass, pussy, and mouth at the same time. Lots of close-ups of Mina receiving a stream of urine from one or more guys straight into her mouth at close up.
There are plenty of blow jobs and some well-shot video of two large cocks using her pussy and ass simultaneously. This video demonstrates exactly how much Mina is prepared to do in her videos. The nice thing about this video was watching mina enjoy the action, smiling, and even giving the audience a little wave at the end.
The video was very well shot with a great looking expensive set. The lighting was perfect so that you could see every bit of action close up and clearly. With videos like this Mina has a long career ahead of her.