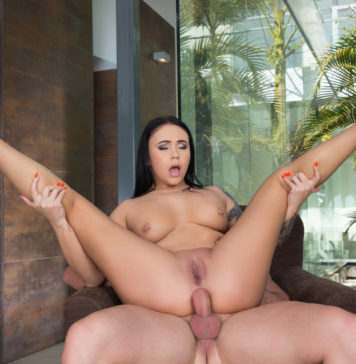 BG ( Boy / Girl )
We consider her as one of the hidden gems in the world of porn. She is Nilla, also known as Sandra Stalina. She is born in Romania and started her adult career last year 2010. The Romanian pornstar isn't that active doing porn videos as she is picky and wanted to have the best scenes with the best pornstars on that time. Her videos accumulated at that time and created a lot of high quality hardcore collection. She has a unique beauty, looks like a Latina or Asian at first, but she is a pure European. As a matter of fact, Nilla is a cutie and so innocent looking, but her tattoos and her skillset in sex making her a naughty slut.
Nilla has jet black hair and light coloured eyes. She is 5'5 in height and has a nice figure. Two things we notice with her as she started her adult career is that her body is deliciously looking. Fresh just like the teens and not to mention she is so petite. That is why she is really fit in the teens category. Her pretty face is off the charts and her pink nipples and pussy are too tempting to resist. She got a lot of videos that when you started to watch, felt unbelievable as you are looking on a gorgeous teen like her taking huge cocks into her mouth and her wet pussy.
Currently she can be into the teens category and you won't believe that she is 28 years old. She really looks young on her facial features. There are also two things that you think that will sell her out if she got in there. Her skills are definitely like a veteran and her tattoo sleeves are indication that this chick is got a lot of experience when it comes to sex. Nilla currently was into a normal hardcore stuff. Some of her videos featured old man as she loves getting down and dirty with them. Seeing this chick like doing naughty stuff with the older guys is dream came true for the oldies.
Talking about Nilla's features she has perky tits that really fit on her whole body. Her nipples are really fresh looking and if you can lick and suckle on it all day she really wouldn't mind. Her shaved pussy down there is always hungry for huge cocks and sex toys. But her booty is another story. We can say she is bootylicious down there and seeing her getting in doggystyle and reverse cowgirl position are the positions that a must do when having a scene with her. Look forward on her previous videos and you will definitely agree with me.
The latest updates regarding this Romanian hottie is that she got a lot of videos doing double penetration. Yes you read that right, Nilla is into anal sex nowadays. Just by seeing her having sex normally is already unbelievable but seeing her taking two cocks at the same time is a fantasy come true. Not only that but she is trying out the fetish and BDSM niches. Yes! It is time to celebrate as we about to see Nilla trying out the fetish and BDSM category. Seeing this horny babe having sex with various kinky toys or getting hurt with pleasure is definitely a must watch. There are a lot in store for this European beauty that is a must watch.
Watch out for more of this tattooed European chick. She is innocent looking but she can get nasty if needed. Especially on her upcoming extreme hardcore and BDSM videos, be sure to check her out often as her videos can get trending in the adult industry.