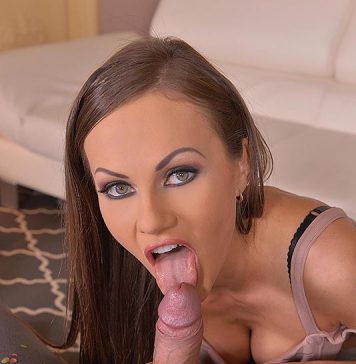 blowjob
Tina Kay! Everytime I see her on my list of updates this is our expression of her. She is such full of surprises when it comes to her adult porn career and keeps us getting back for more of her with her latest videos. She is born in Lithuania last April 23, 1985 and began to start modeling at her young age of 16. Heads turned around and her background in modeling serves as her stepping stone into her porn career at her age of 21. She said that more tempting offers she received on that time and she immediately accepted the opportunity.
Standing tall at 5"9 with her slender body, she is blessed with fine perky titties and tight pussy. She loves to showcase it at first in front of her followers before her partners in the set. Once she gets into action you know what is coming next!
She started first on lesbian and girl on girl scenes. That what the plan is as she want to make herself familiar with the work she isn't used to do. But at that time she noticed that she is more than that. She can easily be one of the top starts as she enjoyed exposing her sexuality in front of the camera. That keeps her on giving the best performance for every chance that she got.
That is when after a few months she decided to do boy and girl hardcore scenes and boy that was a much awaited moment for her fans. They finally got to see this European bombshell in front of the cock. Not only that but she also tried other niches you won't imagine she did such as BDSM and fetish. She is really adventurous not only off cam but also on cam.
With that in mind she got featured in top porn producers such as 21 Sextury, Brazzers, Kick Ass Pictures, Perfect Gonzo, Digital Playground and the list goes on. She's been in this business since year 2005. She won't stop as she is on her best age as a pornstar. Turning into a MILF after few years, Tina Kay never holds back and wanted to do all the stuffs in the crazy world of porn industry. From solo, masturbation and lesbian sex at first to hardcore, threesome, blowjob videos. Not to mention she also has a vast array of extreme sessions such as fetish, BDSM, Interracial and wild ones such as orgies and group sex.
Yeah her popularity is definitely on top as she is all present on every category you can possibly imagine. This girl's skill is limitless, she is unbelievable. Her portfolio so far this year 2018 is she have 80+ videos of her with different niches and she won't stop until she make her mark in this industry. She really enjoys on what she does on her career and that is a definition of a true pornstar.
What we specifically love about Tina Kay is when she gets into action. Her tempting stare from her partners and the camera is so intoxicating and you will never forget that moment. Seeing her having sex or blowing cocks while giving us that naughty stare is such a moment. You may want to rewind that all over again. Tina Kay is the exact definition of every man's dream. Many would love to tap that phat ass and screw her tight cunt.
On a note of her personal life she is an active lifestyle as she love sports and frequently on the gym maintaining her fitness. That's dedication and she loves to maintain a healthy lifestyle and maintain her body as that body is one of the reason why Tina Kay is one of the hottest pornstar today.