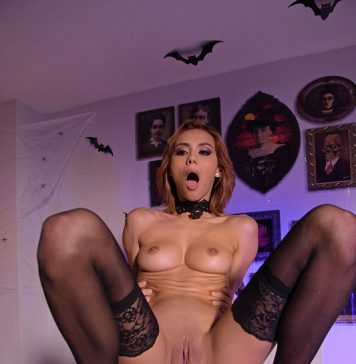 Anal
This 25-year old named Veronica Leal is currently trending on this industry with her amazing beauty and her hardcore videos. This chick knows that she is perfect outside and it compliments with her skills in the bed. This Latina knows how to please multiple cocks at the same time. She is that skilled that is why many are curious when she started to perform in her country and in Bucharest. Many wanted to bring her in the US. That is how in demand she is.
This finest adult star in Columbia is a Latina, which by the way, people love in this industry. Usually, they possess natural, exquisite beauty and blessed with goodies that many wanted to touch and taste. Veronica Leal started her career recently last year 2017. This 5"4 beauty did her first scenes in her home country in Colombia. She isn't well known back there but with her scene with Nacho Vidal, she gains a lot of attention. Her combination of beauty and her amazing skills, she gained a lot of fans, especially in the US.
With some of the fans discussing her on some of the adult forums, she answered back by doing scenes in Bucharest. That's right, finally, her new followers get a chance to see her in action with the famous studios. When Veronica Leal started her career started to rise quickly. She got the hearts of many and her followers increased by a mile. She really possesses with her cute but unique beauty and blessed with nice tits and a big butt. Her booty is her best asset and it is big for her petite figure. That butt really shines whenever she is performing in front of the camera.
This sexy Latina admits she is a bisexual. She loves big cocks as much as she loves pussies. That is why this girl is all around and can perform in solo as well as in her hardcore scenes. Honestly, Veronica Leal's forte is hardcore and anal. In fact, she is an anal queen in the making. That is right we are making the boldest prediction. If only Veronica can perform in the US and take her talents there. She really can jell well with the other famous mainstream pornstars, especially in the hardcore category.
Talking about marking her as our future anal queen she got numerous scenes that are very memorable. Veronica really can get wild when her asshole is getting the satisfaction with big cocks or sex toys. She also can get orgasmic and can cum multiple times in every video. With those plus her beauty and her sexy figure really will make you follow her for all of her future gigs. She got a few gangbang moments too and she can really take multiple cocks filled on all her holes. Just watch her perform and get fucked with multiple guys we are sure you will enjoy seeing her pussy and her gaping hole getting wet and satisfied.
Currently, this babe is active on Twitter and keeps connect with her fans all over the world. She really values them a lot and wanted to please them with all of her incoming stuff. We can't wait to see her next stuff this year 2019. We are keeping our fingers crossed.