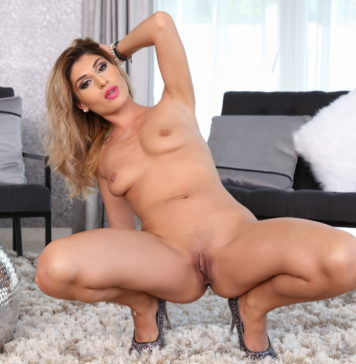 BG ( Boy / Girl )
This sexy babe from Sakhalin, Russia we think is a newcomer. We are glad for the opportunity to watch her getting wild in front of the camera. This slender chick is freaking tall and fits right into porn. Her number one asset we think is her sexy figure and her height of course. She is all-natural. We love seeing her getting naked as her perky tits and her shaved pussy are fantastic. Once she gets turned on you know that it is a treat seeing her getting screwed hard with big cocks.
With her all-natural goodies and her slender body, this blonde's talent in sex is outstanding. We always want to see her doing blowjobs and hardcore sex as she is knowledgeable in this kind of work. Maybe her past experience helps her share her talents. Viviana can give you a girlfriend experience as well as a real pornstar experience. This lovely chick likes being sensual or passionate in erotic sex scenes. But can be wild and nasty on hardcore scenes. Viviana is too horny and always looking for a cock to have fun.
With her talents and her precious body, it is a perfect combination to enter in this adult industry. Little information can be found on her as she is a newcomer. Viviana can be your new, epic sexual fantasy. Especially for the guys who love tall chicks, she will not disappoint you with her long legs. Love seeing those when she stretches it while getting screwed hard in cowgirl and reverse cowgirl. She loves spreading her legs wide as she is also flexible like an amateur gymnast.
When she is getting a treat of huge cocks you can see the joy that it brings to her. Her moans are such music to our ears. Watching her tight pussy getting slammed and her naked body at the same time makes you want to see her fucking for more. Not to mention her pretty face when she is about to cum. Viviana loves orgasms, who doesn't?
Watch out for more Viviana as this newcomer enjoys doing porn. You can see it on her face while she performs in front of the camera. It is really a thing for you if you do your work with passion. That is why Viviana excels on her early part of her career because of her passion on sex. She is looking for more to explore on this colorful life of porn. We are always looking forward for more of her videos doing something new like anal, group sex or BDSM. We can always wonder but it is not impossible with this hottie from Russia, the one and only Viviana.