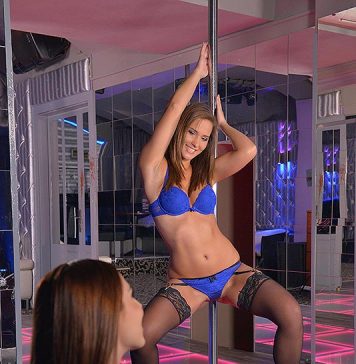 Lesbian
Also known as Honey B, Betty, Antonia Sainz, Antonia, Antonia S., Ursula S., Naomi, Natalie, Katerina, Nicole Smile, Antonia Sainz is a young pornstar who has featured in over 30 porn movies to date.
Like many other superstars from Europe, Antonia hails from the beautiful streets of the Czech Republic.
Standing at 5ft 7in tall and weighing an out 55kilos, pornstar Antonia Sainz is quickly rising to be one of the good pornstars of our generation.
Here is the complete bio of this beautiful brunette with the best sex scenes from her movies.
Early Life
She was born on December 14th, 1992, in Stredocesky Kraj.
Porn Career
It is no known the precise date in which she started acting porn.
According to his twitter account, she probably debuted in 2015.
She has been changing her name many times, but she settled on her name Antonia Sainz.
She is quite the model s she has built her brand from the ground up.
She has shown her talent in featuring in various videos.
The scenes range from hardcore porn, threesome, toys, fetish, masturbating, striptease, and lesbian.
She is right that she was awarded Miss Erotic in 2015.
She does not have any tattoos nor piercings on her body.
You can always find her work on her website or porn hub.
Best of Scenes Antonia Sainz
She is a young model with big ambitions.
The bigger the cock, the better for her because that is what she likes.
She sucks, blows and fucks. Here are some of her best works:
A summer day with Antonia Sainz
If you want to see raw footage of Sainz taking a dick, this is the video o watch, I wouldn't say this is the best blow job video, but it does the work for the average Joe.
LetsDOEIT- Hot Tub Erotic Sex With Antonia Sainz
This is her most recent video that was released two days ago.
The video includes her and her male counterpart erotically fucking in the waters.
Here you cannot tell if they are swimming in cum or pool.
By is it steamy!
Get your hard-on by watching this video.
Antonia Sainz Squirting Session
Her wet pussy is soaked in all kinds of waters.
You know she is a freak as she goes ahead and puts chewing gum inside it.
The model is nothing short of a phenomenon.
This is the video to watch if your lube is already in hand.
It will take you to another level.
Antonia Sainz Offer A Real Hot Solo Show
This video entails her lying on the beach trying to get all her pusssy juice out; The young model is one of a kind as she moans and groans in personal pleasure.
She is quite the firecracker
Busty Antionia Sainz deep throats big dick in the shower
In this video, Antonia is very horny for the lad's cock.
She strokes him using her boobs and then proceeds with her mouth before finishing him with the pussy.
This broad definitely has nine lives.