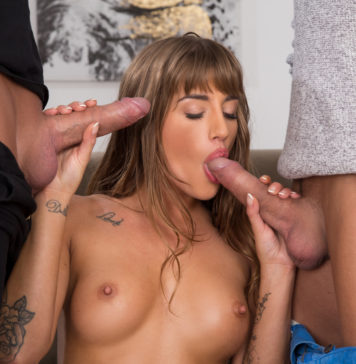 Threesome
The hot babe from Czech Republic, Silvia Dellai will definitely surprise you with her beauty and her skills. That combination will definitely mark in your brain as she takes over every video she participated in the hardcore category. Standing 5 feet and 2 inches, this 25 year old debuted in this industry last 2015. She got amazing vids to be proud of as this woman talents pair up with the popular pornstars nowadays.
One of her trademarks are her tattoos. It really fits on her beauty and her personality. If you take a look of her she maybe is quite intimidating at first but once you see her smile you can see that she is friendly. She got that a lot but this babe is having a personality that everyone will love. One interesting face is she is one of the members of Dellai Twins. Together with her sister, Eveline Deillai, they help guys obtain their sexual fantasies by experiencing watching real twin sisters getting down and dirty with big cocks. Yes, the twins does threesome with lucky guys and it is freaking awesome. Do your Google research and you'll see what we are talking about.
This beauty got fake tits but its size fits well with her sexy figure. Yes she got tattoos but she got piercings as well on her tongue, her navel and her left cheek. One of the best stuffs from her is her tight butt. She is an anal freak and always looking forward for a cock or a dildo on her butthole. She easily gets her orgasm by anal sex that is why she focus on that category back when she is in the Legal Porno.
What surprises us the most as she got some kinky fetishes that she have done previously such as pissing. But most of her vids are about fucking her butt. Thanks to Legal Porno and Private Gold, all she did is getting screwed in her butt as she got her asshole turned into a gaping hole. Silvia Dellai also loves facial. She loves the feeling of getting sprayed on her beautiful face that man juices. She is a pleaser as she feels better when her partner is cumming right into her face.
Silvia Dellai can get nasty when needed and with those tattoos and piercings all over her body she really fits getting wild on every sex video. But this tattooed chick can be sensual and passionate if needed. Together with her sister, she did most of that on their threesome videos. It is a must watch and you guys should check it out.
This European lady can get nastier with her videos as she also got few stuffs such as ass to mouth, and double anal. Yes, double anal as her gaping hole can take two big cocks at the same time. That is on another level guys. She is your nasty girl from Czech Republic and you can't dig that. We are seriously excited to see what she is going to do next. Perhaps more scenes with her sister. Their videos are golden and such a rare gem in the industry. There are few other real sisters fucking at the same time in this industry. That is why we must preserve this sexylicious European chick.