Let's continue our journey into the depths of the mind of Tommie The Wanker. In addition to evading tax, breaking the Hungarian corporate law, and spreading lies against actual porn producers and performers in order to destroy them, he also acts as an expert on porn in general.
Sadly he already removed that tweet, where he stated that he is not an expert in podcasting (indeed, that is true!) but in porn (which is laughably incorrect, but whatever). Perhaps he realized the atrocity of such a bold and false statement, and engaged in self-criticism? It would be surprising to see that sort of personal quality from him, but maybe there are miracles in the world… In exchange here is a quick screenshot of him "producing porn" in a so professional, and consensual manner!

Yes, this position of the camera maintained for the most of the scene. So professional, just as an expert would do.
As with sugarcookie, his expertise is demonstrated on his old pornsite, which morphed into a sort of blog as it failed being a paysite. When he fails in something – and there are many -, he turns to writing. A particularly noteworthy article is: "The best porn agencies in Europe".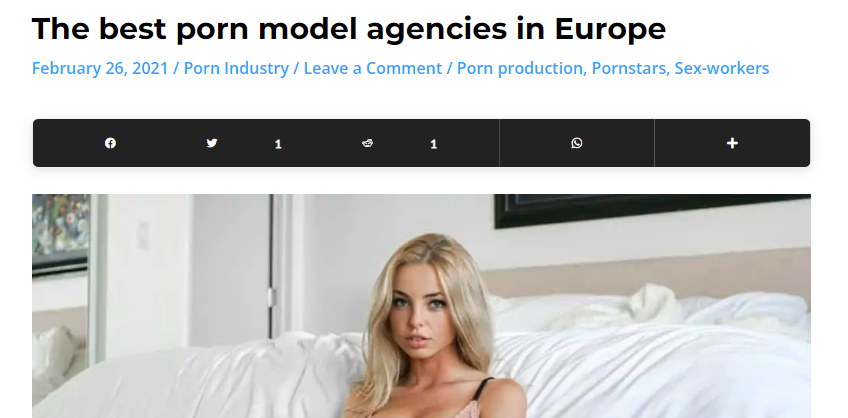 Now, for starters, Europe is big. Not only consist of Czechia and Hungary, what he observes as the scope of the article. Also claiming something to be the best is at places, at minimum, calls for bias allegations.
But no suprise there – he starts with his all time favorite Jul's Models. The agency, about which even his honest guest Eva Berger said terrible stuff. Eva Berger said in the interview Failed Tommie made with her, that her agent (Julia of Jul's Models) made her do stuff, and she could not say no. According to Eva Berger, Julia threatened her, and other atrocities should not be tolerated.
Yet, Fake Tommie writes: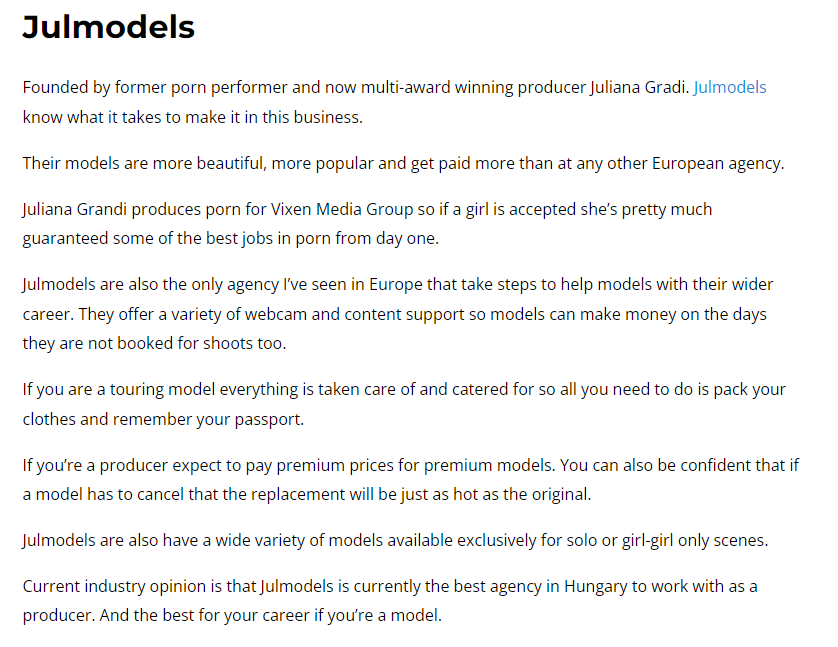 So many false, obviously biased comments. It shouts out loud that he was bought by Julia, and he serves her. Julia is praised to Heaven in this little snippet, almost like a paid advertisement for her. Of course, this is a clickbait-style, contextual article, so for ad revenue sake, he needs to list other companies as well just so there is a real comparasion feel to the whole thing. Or of course to bash an actual competent agency, Brillbabes, or as he writes, Brill Babes: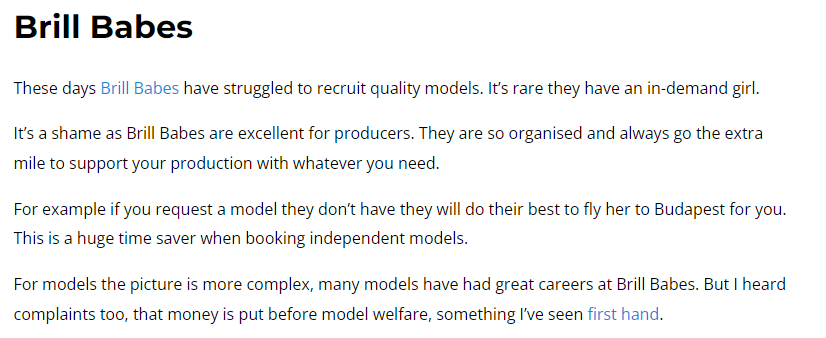 So much shorter, and it only contains allegations and criticism. The real reason he wrote such nonsense about Brill, is because he felt offended by Brill at one point, before he wrote this article. It just happened, that he booked some models for his fake and now failed pornsite (so he can fuck hot girls hiding behind the facade of "I'm producing porn"), who canceled on him, and while Brill – as our sources say – offered him alternatives, he was a real drama queen and declined. As of yet, we have received no proof of that from our sources, so it is all just allegations, but we wouldn't be surprised if it is true. This just fits Tommie Boy's, the British Wankers personality really.
He also lists some Czech agencies, including Nikki's for instance. Since everyone knows Nikki's is actually a production company and an agency, they largely recruit for their own productions, so why even bother to include them in such a (fake) comparison?
All in all, Bias Tommie showed his side of living life. He was unsuccessful as a porn producer and performer. He is a failed vlogger and blogger. And to make ends meet, he sold his "talents" to Julia and some producers, so he can keep feeding his cats. In the past he also tricked Hungarian corporation law by supplying fake and incorrect data, then supplying nothing at all, so his businesses were almost all forcibly closed, as we showed in our previous article. He is also most likely a tax fraud, and he has fled the country to Thailand.
Yeah, whoever gives him credit surely has his or her reasons to do so…